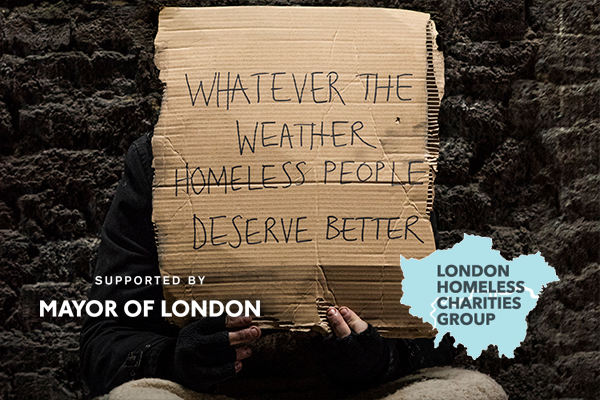 The London Homeless Charities Group (LHCG) is a coalition of charities that have come together to share best practice, and to provide the public with a single point to donate to support our work to end homelessness. All charities in the group deliver direct services to people that are sleeping rough or those at risk of rough sleeping.
Mayor of London, Sadiq Khan, said: "It is shameful that rough sleeping has risen so much under this Government, and it is our moral duty to do all we can to help people facing homelessness in our city. This winter, City Hall are doubling our outreach teams and making sure severe weather shelters open more often, and we want to make it as easy as possible for Londoners to play their part too.
This year we will be fundraising via 2 different platforms – Go Fund Me & Tap London.
Tap London will have 92 contactless points across London where card donations can be made for a standard amount of £3. 35 donation points have been launched across London today. Locations include:
WeWork (4 devices: Moorgate, Corsham Street, Waterhouse, Devonshire Square, Finsbury Pavement)
Regent Street Winter Retreat (open Fridays and Saturdays only)
Vodafone (2 devices: Stratford, White City)
South Kensington Estates (1 device: Empty unit Brompton Road)
Greater London Authority (2 devices: City Hall, Union Street)
Westfield Europe Limited (5 devices: Westfield White City)
Board Game Cafe Draughts (1 unit: Waterloo)
The Walrus Bar and Hostel (1 unit: Waterloo)
The Duke of Sussex (1 unit: Waterloo)
The Fire Station (1 unit: Waterloo)
The Wellington Hotel (1 unit: Waterloo)
Bar Elba (1 unit: Waterloo)
The Gentlemen Baristas (2 units)
Regent Street Local (5 units)
Protein Studios (1 unit: Shoreditch)
Change Please Coffee Kiosk (1 unit: Canary Wharf)
Curzon Cinemas (2 units)
City of London Information Centre (1 unit)
Acquavit London (1 unit: West End)
Bump & Grind (1 unit)
The Harold Pinter Theatre (1 unit)
The May Fair Hotel (1 unit)
The funds raised from the GoFundMe page and TAP London locations will feed into a single fund, which will be split equally between the 22 members of the London Homeless Charities Group and spent on services to tackle or prevent rough sleeping.
The London Homeless Charities Group (LHCG) is made up of 22 charities:
The Albert Kennedy Trust
The Big Issue
Centrepoint
Connection at St. Martins
Crisis
DePaul
Evolve
Homeless Action Barnet
Homeless Link
Housing Justice
Kingston Churches Action on Homelessness
Look Ahead
New Horizons Youth Centre
The Passage
Providence Row
Salvation Army
Shelter
SHP
St Mungo's
Thames Reach
West London Mission
YMCA
If you are concerned about someone you have seen sleeping rough you can use the website (https://www.streetlink.org.uk/) or app to send an alert to StreetLink.
The details you provide are sent to the local authority or outreach service for the area in which you have seen the person, to help them find the individual and connect them to support.
Share this page by email or social media