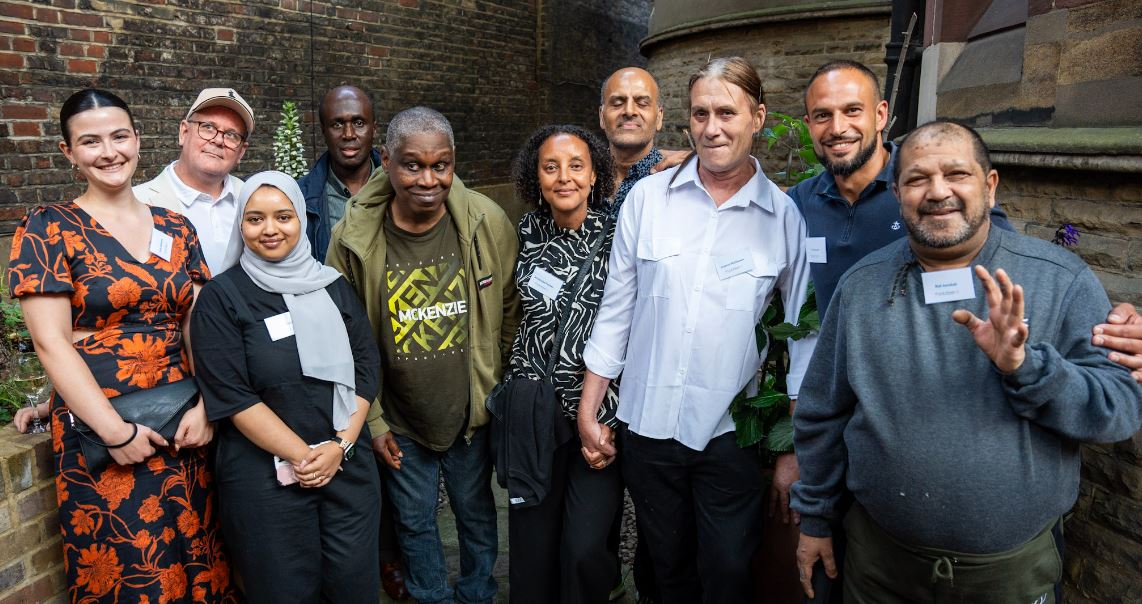 Hi, my name is Joanne Matthews. I joined Look Ahead over four years ago as a volunteer, and I'm now a Bank Support Worker at the Crisis House in Tower Hamlets.
I joined Look Ahead via the Peer Support volunteering programme. From there I became involved with Quality Checking, Experts by Experience Training and more recently, the LGBTQ+ staff network. Outside of Look Ahead I've been going to college to improve my education and gain qualifications in Health and Social Care.
When I first came into volunteering, I was very nervous about meeting and working with new people. Even travelling up to London was a big task for me. When I joined Look Ahead, I didn't know what it was and now I've been asked to do a lot of things like attending the Board Away day last year. To meet the Board members and have them be interested in me is amazing. I've never had that in my working life before.
Working in the Crisis House is great, people with mental health can come in there as a volunteer and work their way up, like I have, into paid work. When I first joined, I was frightened of computers and paperwork, but now I've built my confidence and can do it. While I don't share too many details about my own lived experience of mental health, I say that I understand and have been in hospital or under section. Peer support workers understand what the customers go through, and we can relate to them a bit more. They trust me, the customers, team, and manager.
What I think is great about Experts by Experience is they can tell you the truth about how it is. I'm not saying that other trainers aren't truthful but someone who has been through mental health or my personal gender journey – you can't get unless you have lived it. To me, you can't get someone to teach it if they don't understand it, and that's what I want to get through to people. That's why it's excellent when we get people who talk about their own journeys.
I've also been getting involved in the Customer Incidents Panel. We review anonymised incident reports and come up with recommendations for what Look Ahead can learn to prevent or better manage similar incidents in future. I've also learnt a lot as a Quality Checker going out on audits with the team. I've had the opportunity to learn from different people and it's fantastic. I've got a great network of people in different teams within Look Ahead. It's been a good company for me for my learning and being able to be myself.
I'm also a member of the LGBTQ+ network. Look Ahead have been very supportive through my own journey with my gender, now I'm in a network with other LGBTQ+ colleagues and it's great. We kept talking about having a poster to advertise the network, and my manager kept asking me 'What what's happening with the poster?'. I was on night shift, so I decided to design one and take it to the network and it worked. It's up in different services and the head office.
This blog is going out on Co-Production week, and to me co-production is all about raising your voice and getting your voice heard. Also understanding there are people out there who need to be encouraged to achieve their goals from those who have gone through similar things. Other people can hear and learn from your experience. If I share about my journey to another peer support volunteer it means another person's involved and then another and we can all celebrate it. I believe if you help people as much as you can and guide them, they will be able to achieve their goals and make things better. Get everyone talking about it, it will make it better for everybody!
Four years ago, I didn't think I'd be where I am now. A lot has changed in my life. It's crazy what I've done. Does it scare me? Yes, sometimes, but if you push yourself, you can do as much as you want. You can give it a try and if you don't like it, you don't have to do it again. Also, you get looked after by Look Ahead by the staff in head office, out in services, even the directors! If you have an idea, you can take it to somebody, and it will grow bigger and bigger.
I think what I've done in four years is unbelievable. I never thought I'd be having a cup of tea with a Director, and they'd want to know all about me and what I've been working on. I just think everybody needs to give something a go and I think if I can do it, anyone can.
Share this page by email or social media