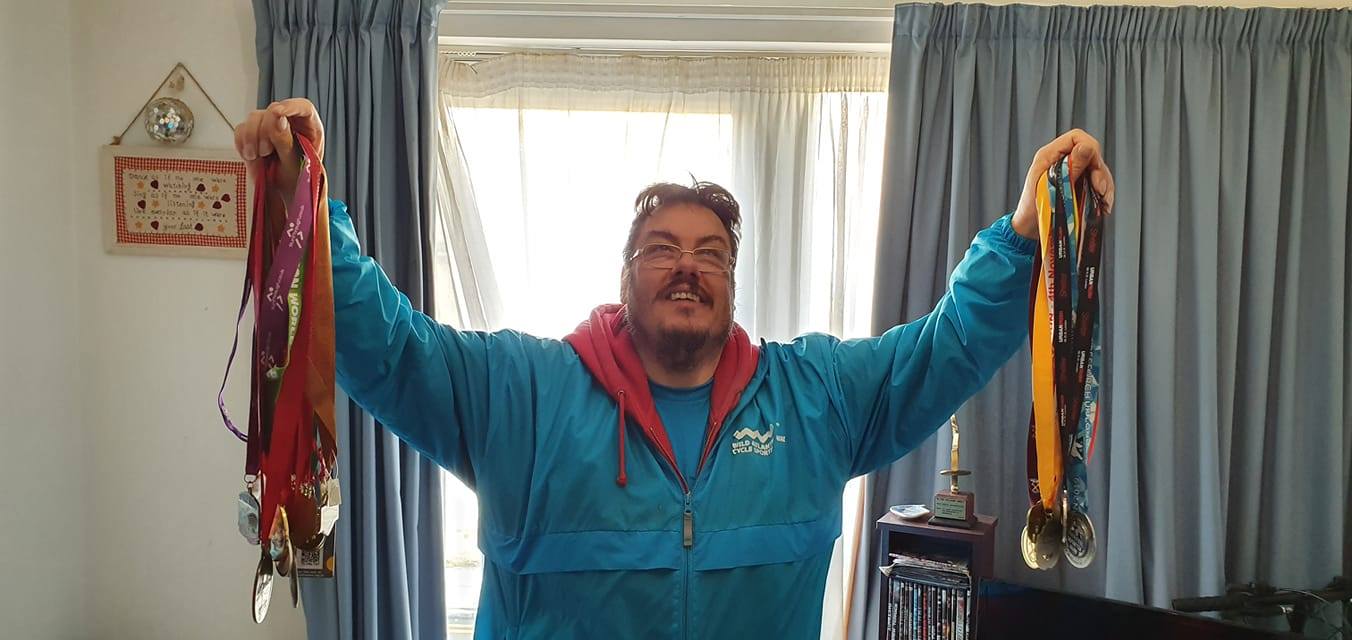 When Gary moved into our learning disabilities service in 2012, he was in a difficult place in his life. He had just lost his job at a supermarket because of his declining eyesight, which worsened to the point that he became registered blind. It was a tough time for Gary, moving in to a new service, no work, and very limited eye sight. His confidence was at a complete low, and he would often take out his frustrations on staff members and customers by yelling and shouting.
One day, one of the support workers mentioned that they were taking part in a 5K parkrun at the weekend. Hearing this, Gary mentioned that he would like to get back into running. We discovered that running had always been a hobby of his, and he had even taken part in the New York Marathon back in the 1980's. Our team encouraged him to join the Support Worker on the 5K run to get back into the swing of it, but he was reluctant. His confidence was low and he feared that, because of his poor eyesight, he might trip over during the run.
His safety was a concern so we did a risk assessment, and took Gary to the doctor to check that he would be ok for him to participate. The doctor said he was fine to take part, and we managed to convince Gary to join us on the run, on the provision that we held his hand and made sure he didn't trip. Gary and I took the course slowly and I held his hand along the way, and completed the parkrun without any issues. Gary really enjoyed being back running, and was immediately keen to do more.
We helped Gary register for more 5K runs and soon he was running two races every month. His confidence built up more and more, and the adrenaline made him feel good. We accompanied him to the runs, but it wasn't long before he was comfortable enough to go by himself, even going as far as Reading!
The regular exercise and his build up of confidence resulted in positive changes in other aspects of Gary's life. We helped him take part in the All Ability Cycling Club at Victoria Park, which he really enjoyed. He realised that his visual impairment didn't have to hold him back anymore and he could take part in other activities too. He's also a keen swimmer, and now represents Tower Hamlets in his learning disabilities swimming club.
His new active lifestyle even led to Gary getting a new job, picking litter at the local gym. He used to be a street cleaner for Westminster Council, a job he really enjoyed, so this opportunity made him very happy.
I am so proud of Gary for the independence he has gained since getting back in to running. He now jogs everywhere and is so much more engaged with the staff compared to when he first moved in. It's so great to see him achieve positive outcomes and help him along the way. Gary's next big goal is to run the London Marathon, which would be a huge achievement. With the right support, we know he can achieve this!
Share this page by email or social media