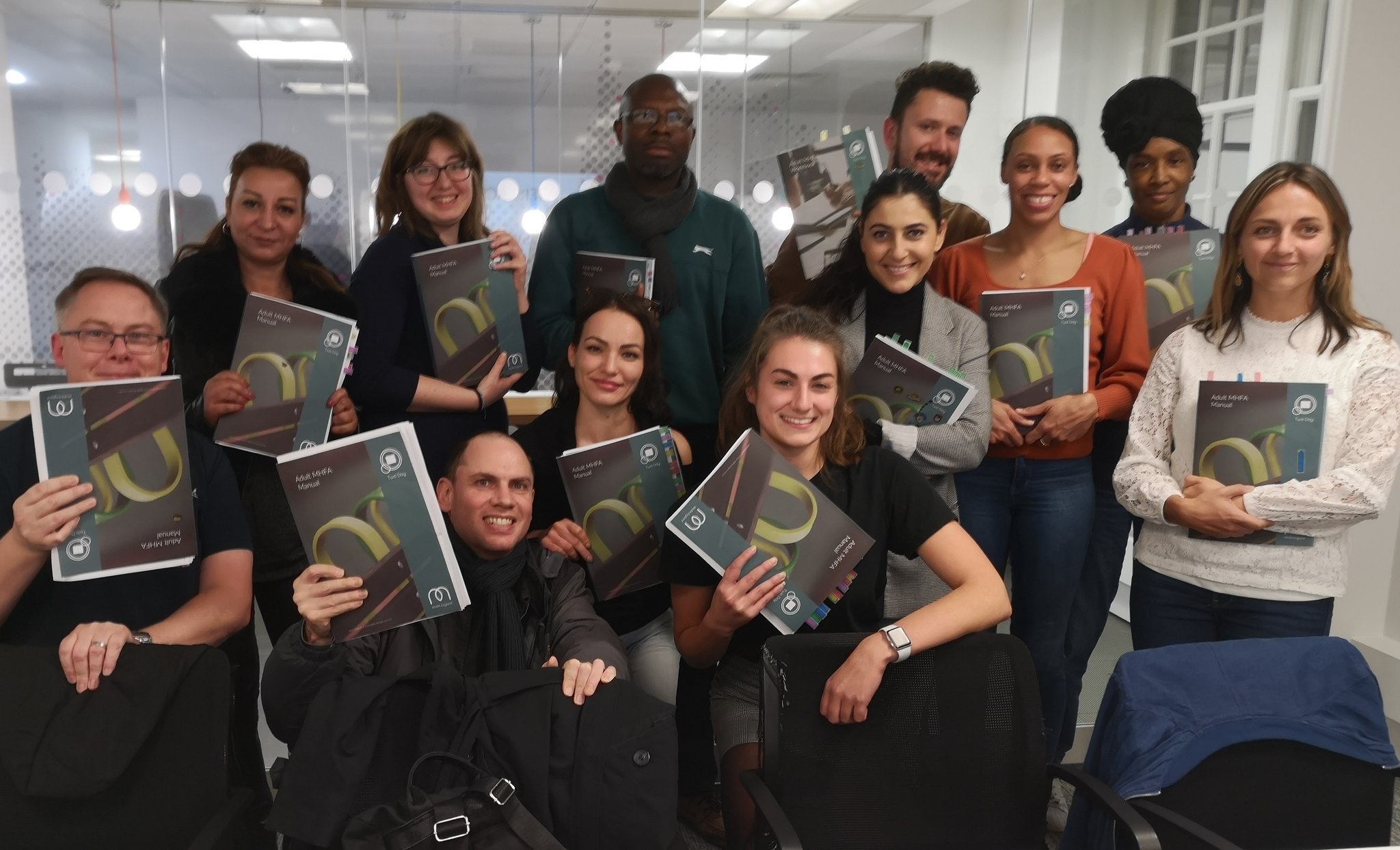 How many of us are first aiders? Would you be confident administering first aid to a colleague or customer in the event of an emergency? Know how to administer CPR? Be certain when to call for medical attention?
Now what if we were talking about mental health first aid, instead of physical first aid? Would your answers change? Would you be more or less confident?
This autumn, Look Ahead has launched Mental Health First Aid, a two day approved course from Mental Health First Aid England and co-delivered by expert trainers from Big Dog Little Dog and our Learning and Development Team. It is designed to equip people with the skills and confidence to better respond to adults experiencing mental ill health.
The aim of Mental Health First Aid is to improve mental health literacy and awareness amongst people, help Mental Health First Aid achieve equal parity to physical first aid and reach a goal of one in every ten people trained.
But why do we need this? Firstly, mental health needs are common – one in six adults of working age will have symptoms associated with mental ill health at any one time. 676 million people are affected globally. So the need for Mental Health First Aid may be just as pressing as that for physical first aid, especially within the workplace.
Secondly, we all can and do discriminate. The likelihood is that most of the staff working at Look Ahead will have some awareness or understanding of mental health needs and how it can affect the people we support in our services everyday. But what about those people we work alongside – our colleagues? Those we sit next to team meetings, or chat to whilst making a cup of tea. Are we confident we would know how to respond to them if they needed support, were in crisis or returning to work after a period off with a mental health related illness? Would we show them the same care and compassion as we do our customers, or might we feel awkward, shy away, avoid any 'uncomfortable' conversations?
Thirdly, when we know more, we can all do more. Training like this can improve our knowledge, our insight and crucially our ability to respond. From anxiety to depression, panic and psychotic episodes, to even suicide – this course can't teach everyone everything, but that's not the point. If people leave the course feeling more confident and comfortable to have a simple conversation, then that's a huge step forward.
Many of us have experience of mental health needs or issues – either through our personal or professional lives or relationships. Physical first aid is often talked about having the ability to be life-saving, surely we should be starting to look at Mental Health First Aid in the same way?
As a part of our commitment to mental health as an organisation, but also for our staff, we'll be continuing these trainings in the coming months. With this training, we as a Look Ahead community will be able to better look out for both our customers and our colleagues' mental wellbeing.
Share this page by email or social media