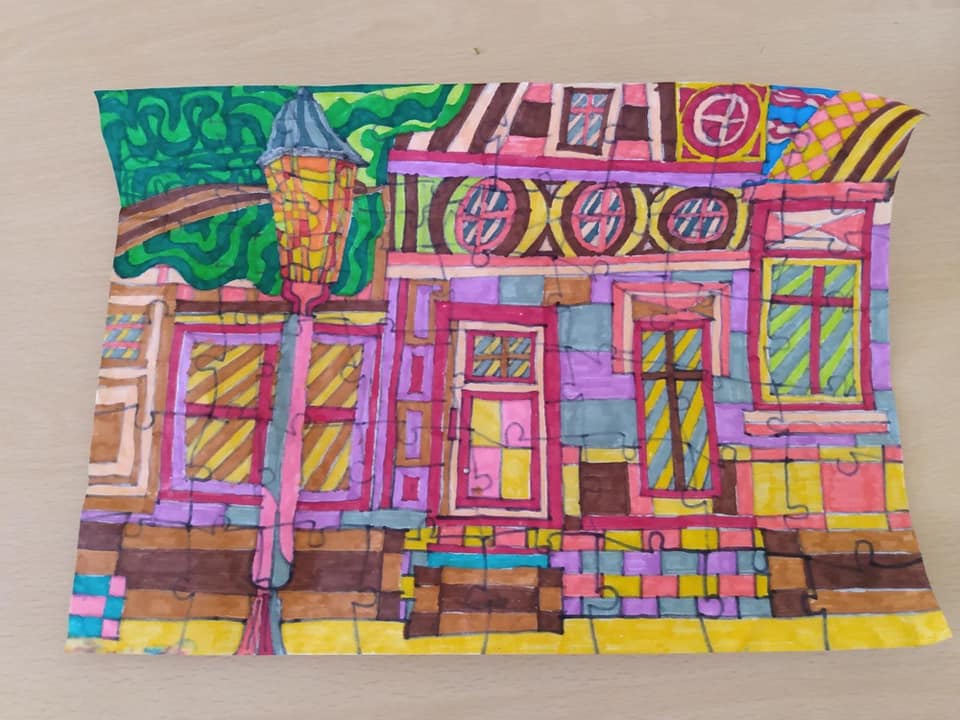 I was thinking about writing about how important art is as expression or self regulation and how this links to Learning Disability…but then it felt academic, so I decided I'd better share two brief stories and you can make up your mind about the importance of Art without me explaining it!
Story 1 – Elsa: the locked tower and the key
Elsa is a woman over 40 diagnosed with a severe Learning Disability, Autism, bipolar disorder, and suspected epilepsy. However, none of these describe Elsa as a person.
She was not very lucky. Due to her struggles, the family abandoned her, and Elsa's first fostering experiences have been rather traumatic.
When finally Elsa found a lovely caring family, her new mum fell ill and couldn't look after her anymore, but Elsa was now an adult.
Due to her significant struggles in making sense of a world which made no sense to her, so difficult and with so many layers to understand, Elsa was deemed as "violent, dangerous", (in more recent years we would say "challenging"), hence they brought her to a secure hospital. Her rights forgotten. Being Hertfordshire and not a Disney tale, there was no prince to "save her", how could Elsa save herself?
Elsa had a passion, she loved drawing and colouring. It soothed her, drawings made sense of her world. They allowed Elsa to escape the locked tower and to create scenarios, reliving experiences, reframing her own narration…she could finally put the pieces together (it is interesting to note that her drawings are structured like jigsaw puzzles).
This allowed Elsa to be in control, to open up and make her feelings understood. Subsequently, in a therapeutic setting, Elsa was able to disclose her traumas through art.
When finally the time came to support Elsa in the community, our Hertfordshire Learning Disability team established the core of the transition work through art and drawings. They developed a relationship with Elsa, getting to "hear" her story, artwork after artwork, bonding with her the way she can be in control.
The colours of her drawing transformed. From dark colours, Elsa started to use brighter and brighter tones.
Today Elsa lives in her own home with the support of a dedicated team that will facilitate Elsa to creating a whole new narration of the possible, Elsa is finally the Queen of the Castle.
Here are a few of her drawings: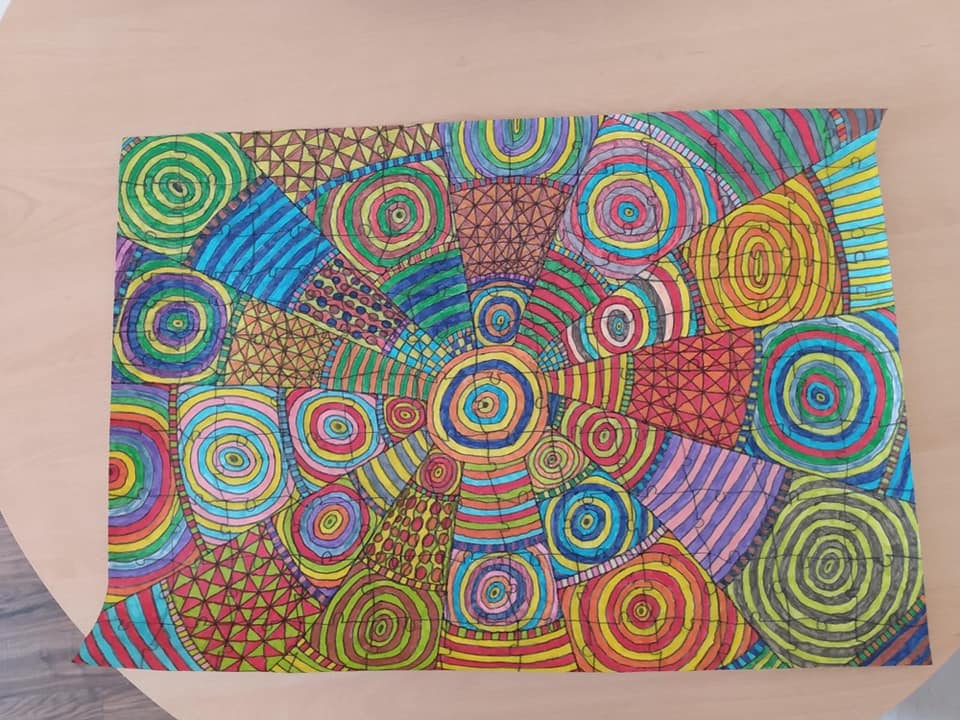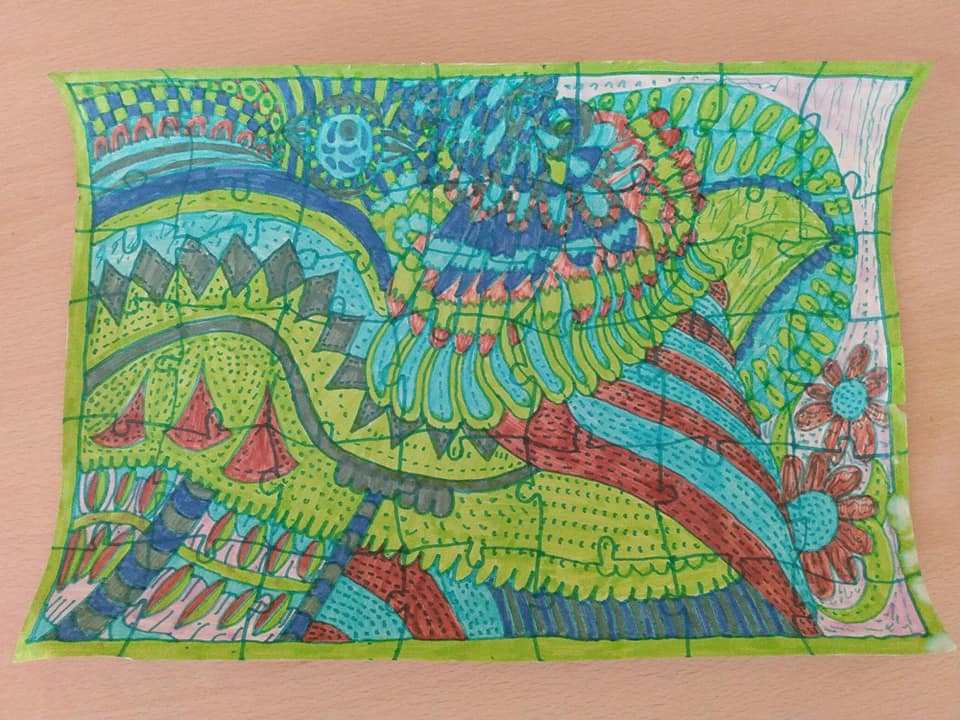 Story 2 – Kurt and the Scary Sound of Silence
Kurt is a 30-year-old gentleman, very sociable, sensitive, empathetic…but due to the nature of his learning disability, Kurt falls in a sort of limbo. He has a diagnosis of mild learning disability and autism. This means he receives less support than he should for his needs which are mostly social and emotional rather than functional.
Kurt can go about his day happily, he has a wide social network, a loving family, friends, a part time job. However, Kurt has to share each and every moment of his days with an uninvited and unpleasant guest: the voices in his head. These voices are not exactly praising him (as if the bullies in town weren't enough!).
Kurt has found his solace in music. When overwhelmed Kurt can put on his headphones or turn up the stereo so to create that moment of stillness that send the nasty voices away for a while.
Kurt became so fond of music that he decided to learn how to DJ and, year after year, record after record, rehearsal after rehearsal, Kurt has made a passion out of what used to be his need to keep the voices away.
This has opened him up to other possibilities, he has expanded on his skills, his self confidence and social network and failures have never stopped him. He thrives and thrives!
Today Kurt is a DJ in pubs and events in Hertfordshire, has been invited to play to the Enrich festival and for Look Ahead events.
But for Kurt though it is not enough, not yet. Now he is the main advocate for the creation of a web radio station for all Look Ahead Services and eager to get on the project ASAP.
The voices haven't gone away, but he can control them with music, and now he can play a smashing playlist to make them shush!
Here are some of his mixes:
So, are you still wondering how can Art be so important for people with Learning Disability?
Happy #LearningDisabilityWeek2021 folks!
Share this page by email or social media