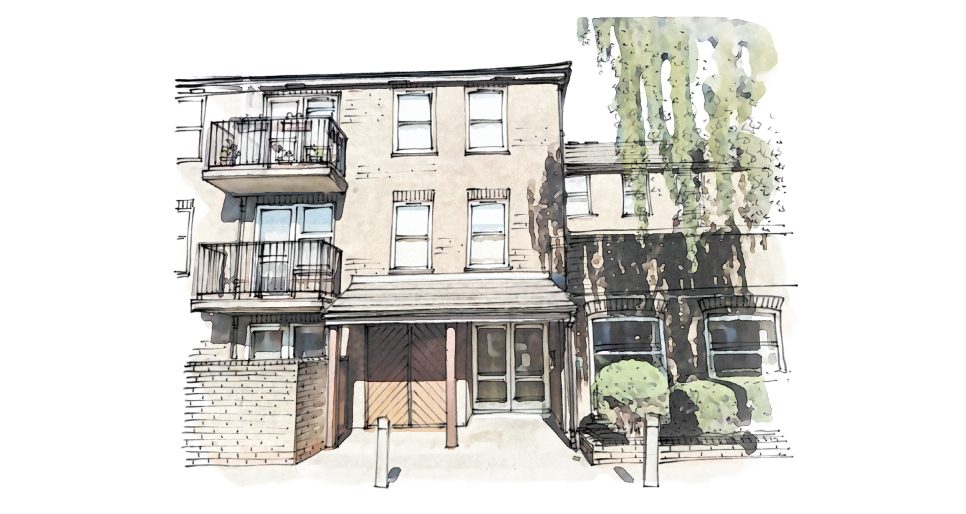 Colin Winter House
Colin Winter House is a supported living service for older adults with learning disabilities who receive tailored support in line with their individual needs.
Due to the residential nature of the service, Colin Winter House is registered under Mary Jones Court.
Colin Winter House is a supported living service in Tower Hamlets for three older people with learning disabilities. Look Ahead set up the service in 2019 in response to the changing needs of three existing customers, who were also good friends and had lived together for almost 30 years. Their home was becoming increasingly unsuitable due to age related factors, including declining mobility and increased health and personal care needs so we worked in partnership with them and their circles of support, including Occupational Therapy, to find an alternative arrangement.
Delivered in partnership with Notting Hill Genesis as landlord, Colin Winter House offers ground floor accommodation with level access throughout, has adapted bathing facilities and is in the heart of the community, with local amenities nearby. Crucially, the property offers three bedrooms, enabling the customers with long-established friendships to remain together, avoiding the need for more intensive services such as residential or registered nursing care and stay within reach of their community links and networks. The customers said that it was important to them that their lives and routines continued as they had before.
Support at Colin Winter House focuses on enabling the customers to go about their day to day lives in ways that are enjoyable and meaningful for them, supporting them to stay as independent as possible. Our staff encourage customers to take part in daily errands and household tasks and use Health Action Plans to pro-actively manage health-related needs in partnership with a range healthcare services, including community nursing.
A year on, the customers are fully settled in their new home and continue to live full and active lives as citizens in their community.

Great support from staff, we get to do what we want and need and also we are listened to.
We work closely with commissioners, agencies and families to develop and deliver bespoke support and accommodation offers tailored to individual needs.
You can enquire about a specific property detailed here or submit a general enquiry. Our team are experienced in developing personalised solutions that meet individual, family and commissioner needs.
Please contact Jamie or fill out the form below and we will be in touch.
Enquire now
Please provide your contact details, the timeline for your need, along with a brief description of your enquiry.