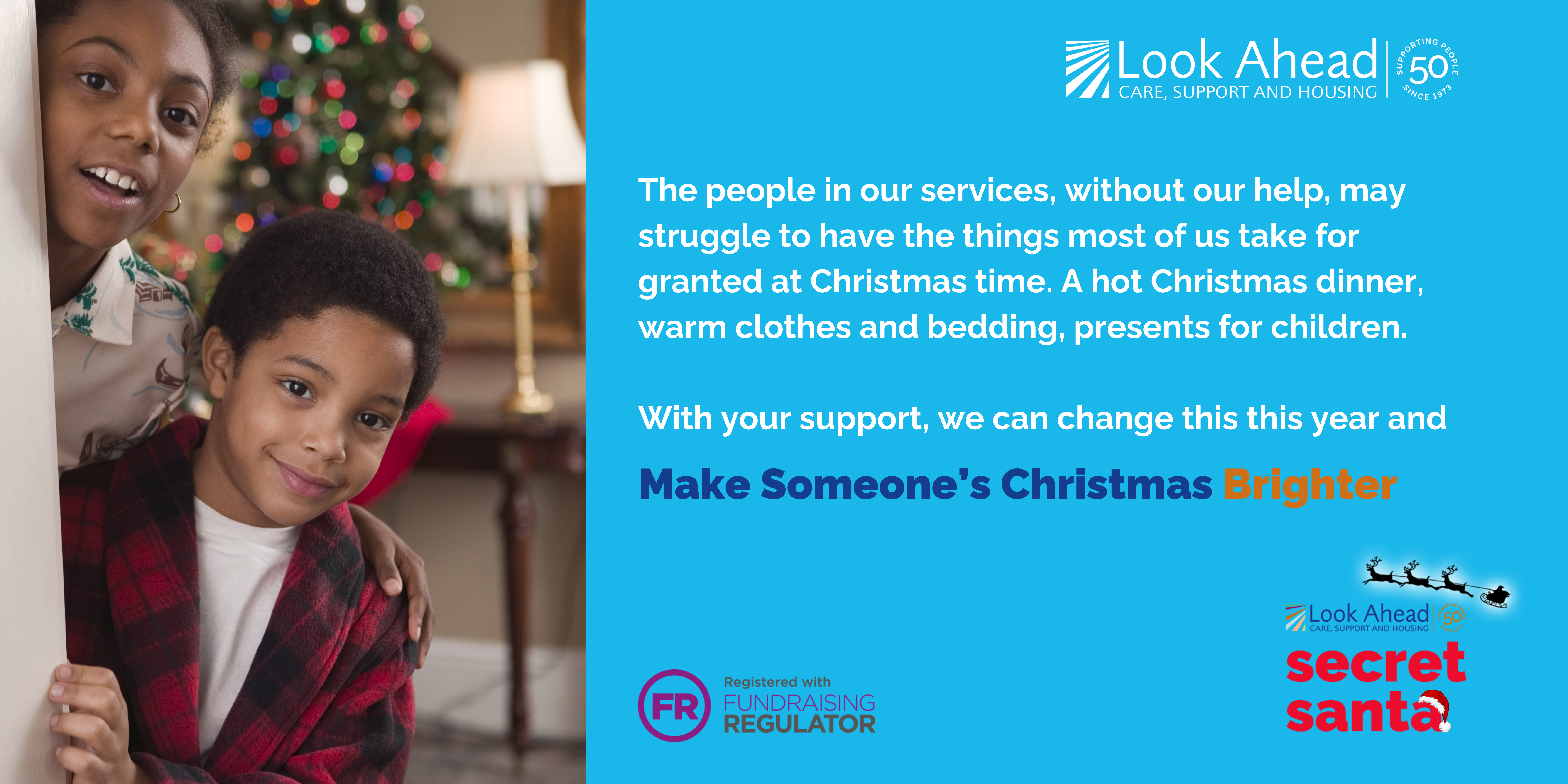 Look Ahead build better lives through social care and housing support for thousands of people across London and the South East. As we mark our 50th anniversary this year, the work we do has never been more important.
This Christmas will be tough for many people we support. People who have experienced homelessness or slept rough, cold on the streets.
People who may be living with a long-term mental health condition, a learning disability or complex health needs. Young people who have just come out of the care system or children who are living in temporary or insecure housing or who have fled domestic abuse.
These people, without our help, may struggle to have the things most of us take for granted at Christmas time. A hot Christmas dinner, warm clothes and bedding, presents for children.
With your support, we can change this this year and Make Someone's Christmas Brighter.
Every pound we receive will go towards providing a brighter, better Christmas for the children, families and adults in our services.
A £10 gift will provide a hot Christmas dinner with all the trimmings for someone in our services.
A £25 gift will provide a child in our services with a Christmas present, maybe the only one they receive this year.
A £50 gift will go towards providing winter clothes and bedding for children in our services
A £100 gift will help provide a festive celebration for people who might otherwise be alone this Christmas.
A £250 gift will provide a Christmas dinner for 25 young people who have been in care who may not have families to spend the festive period with.
Why not spread Christmas joy this year by donating to our campaign or even gifting a donation to Look Ahead on behalf of a loved one instead of your usual gift to them? Or as an alternative to a Secret Santa with your family or workmates?
Let the best gift you give this Christmas be a brighter, better Christmas for someone in need. Be a Look Ahead Secret Santa and support us today.

The gifts from Look Ahead really transformed Christmas for myself and my daughter. I am usually so stressed at how I will be able to give her a nice Christmas - this year I didn't need to worry. I cannot believe the kindness shown to us

It really does make a big difference to the people and families we support. It's so wonderful to see the smiles it puts on people's faces, especially the children who otherwise might not have very much.
Help us make sure that every Look Ahead service user gets the happy and hopeful Christmas they deserve! 
For questions about the campaign or if you are a company wishing to get involved please contact Dipti Rapte at Diptirapte@lookahead.org.uk.
*If you wish to donate you will be directed to Just Giving's website. We encourage you to read their privacy and cookie policies to find out how they use your data. Please note that they will inform us of your name (unless you donate anonymously) and the amount of your contribution. Also, if you opt-in to receive communications from us we will use your email address to contact you.
Share this page by email or social media