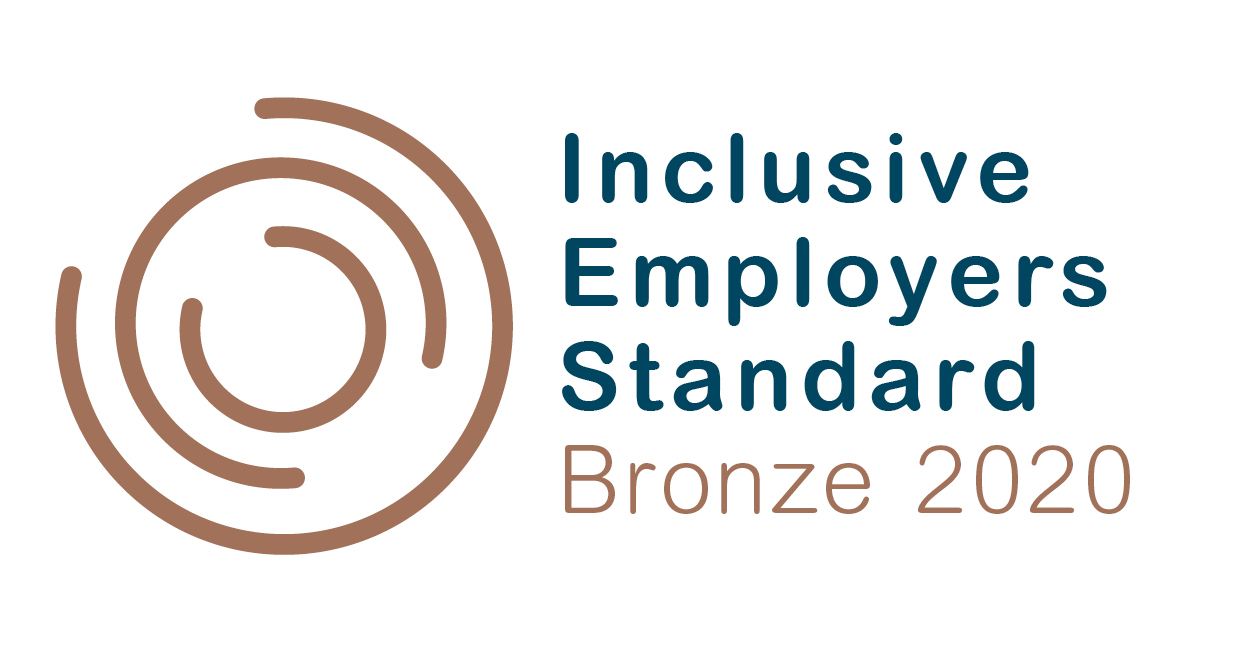 At Look Ahead we want to create a genuinely inclusive workplace, with a culture where colleagues and customers feel they belong and are valued and respected. For us, inclusion is about engaging the uniqueness, talents, beliefs, backgrounds, abilities and ways of working of all our colleagues and customers so that they fulfil their individual potential. Embracing diversity and inclusion means that we will ensure our staff are representative of the customers we support and wider society.
We have an active strategy and plan to drive forward our work in this area and we are proud members of the Inclusive Employers network. Today, we are delighted to share that Look Ahead has been awarded the Bronze standard for 2020.
Claudia Bartram, Deputy Director of People at Look Ahead said:
'We are proud to be recognised for our work around diversity and inclusion by Inclusive Employers. We are continuing our commitment to creating and maintaining an inclusive environment for all of our staff. Our approaches to diversity and inclusion helps us attract, develop and retain staff from the widest pool of talent, which benefits the customer groups we support. The bronze standard is a credit to the work we have done so far, and we will continue to develop our strategy and help all staff feel comfortable to be themselves at work.
Richard McKenna, MD of Inclusive Employers, organisers of the Inclusive Employers Standard said:
'Once again, the commitment to inclusion of the participants of the Inclusive Employers Standard is shining through. We can see they have been working in a strategic and innovative way to truly embed inclusion into their organisational culture. Their success in the Inclusive Employers Standard is a huge credit to the many people in their business making inclusion an everyday reality. Wonderful to see the inclusion momentum growing across these ambitious businesses. Huge well done to them all and good luck to all those taking part in the next round.'
Read more about Look Ahead's commitment to diversity and inclusion here.
Interested in starting a career with us? You'll feel at home here. Browse our latest vacancies and find the role for you.
What is the Inclusive Employers Standard?
The Inclusive Employers Standard was launched in 2018 by workplace inclusion experts Inclusive Employers to support organisations to assess progress with their inclusion journey and award those meeting the Inclusive Employers Standard with accreditation. It is an evidence-based, objective, accreditation tool for assessing and promoting inclusion in the workplace developed and run by Inclusive Employers. The process is via online submission of narrative and evidence against 35 questions arranged over Inclusive Employers' 6 pillars of inclusion, Engage, Equip, Empower, Embed, Evaluate and Evolve.
Inclusive Employers is the UK's first and leading membership organisation for employers looking to build inclusive workplaces. We offer consultancy, training and thought leadership, to help you make inclusion an everyday reality at your place of work.
Share this page by email or social media