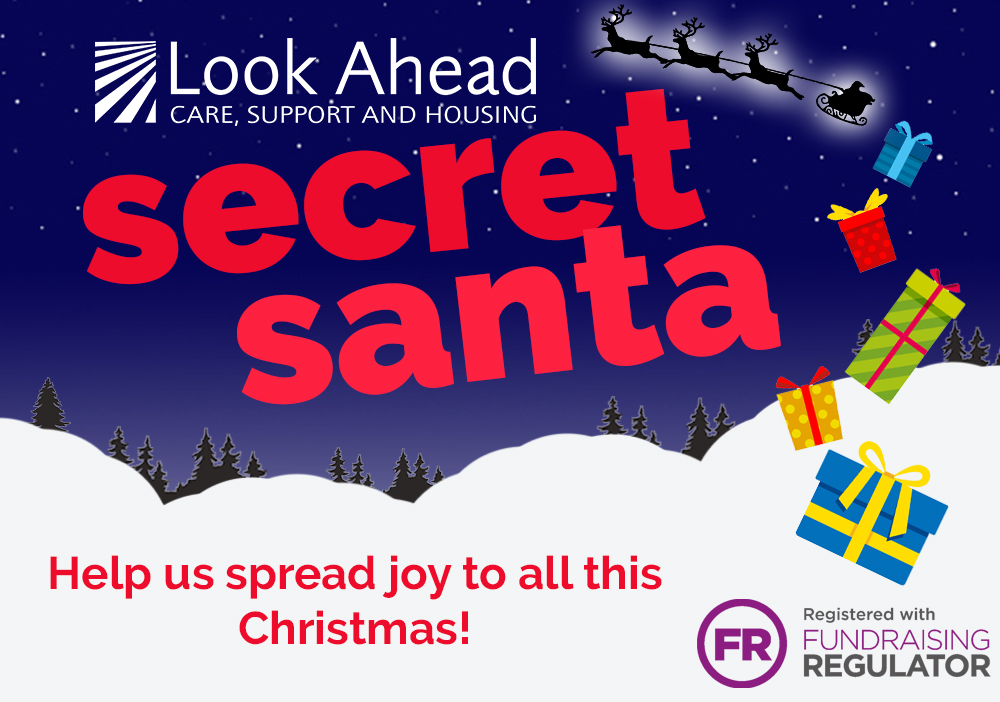 The last two years have been difficult for us all. Having something to look forward to and not feeling alone at Christmas has never been more important. 
For many of our customers, they have no one else in their lives. Often we are their only support, while others lack the means to provide their children with the happy Christmas that they deserve. 
So this year, we are again asking for your help to spread hope and joy to those that we support by becoming a Look Ahead Secret Santa! 
Every pound received will be used for food, gifts and festivities for some of the most vulnerable individuals, families and children across our communities. Every donation helps, but here is an idea of what your donation will actually achieve: 
£10 – Will pay for a Christmas dinner at one of our services 
£25 – Will provide parents who live in our services with a voucher to help them buy a Christmas gift for their children 
£250 – Will provide ten children with a Christmas present 
£500 – Will fund Christmas meals and festivities at our services, giving our residents a Christmas to remember! 
If you're struggling with ideas for the office secret Santa, or don't know what to buy the person who has it all, why not make a Look Ahead Secret Santa donation instead? 
Look Ahead provides care, support and accommodation to people across London and the South East. Throughout the year, we've continued our support for over 7,000 vulnerable people with a wide range of needs, including:

These vouchers made all the difference to these young parents and their children. Some used the money to purchase their children gifts or even Christmas dinner, including getting vegetables to promote healthy living. Some were able to get basic provisions, that would generally be forgotten or missed as parents tried to make their children's Christmas the best it could be. All vouchers were hand delivered to customers, adding to the personal element and community spirit of Christmas.
Help us make sure that every Look Ahead service user gets the happy and hopeful Christmas they deserve! 
For questions about the campaign or if you are a company wishing to get involved please contact Dipti Rapte at Diptirapte@lookahead.org.uk.
If you would prefer to donate by bank transfer or cheque please contact EvaZeeb@lookahead.org.uk. 
Share this page by email or social media